Welcome to Christina Perri Wiki
Christina Perri is an American singer-songwriter and musician from Philadelphia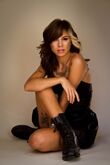 Christina's song "Jar of Hearts" charted in the United States after it was featured on the Fox television show So You Think You Can Dance in 2010. In May 2011, "Jar of Hearts" was featured on Glee (Season 2, Episode 20 "Prom Queen"). Also in 2011, the song was featured on Switched at Birth (Season 1, Episode 4 "Dance Amongst Daggers").
Rolling Stone named Christina the "Band of the Week" in October 2010. One of her songs, "A Thousand Years", has been in the Twilight saga movie Breaking Dawn.
Loading RSS data...
Ad blocker interference detected!
Wikia is a free-to-use site that makes money from advertising. We have a modified experience for viewers using ad blockers

Wikia is not accessible if you've made further modifications. Remove the custom ad blocker rule(s) and the page will load as expected.