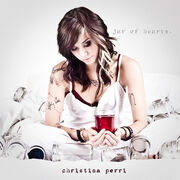 Christina Judith Perri
(born August 19, 1986)
[1]
[2]
is an American
singer-songwriter
and
musician
from
Philadelphia
. Her song "
Jar of Hearts
" charted in the United States after it was featured on the
Fox
television show
So You Think You Can Dance
in 2010.
Rolling Stone
named her the "Band of the Week" on October 26, 2010.
[3]
On May 10, 2011, Perri's "Jar of Hearts" was featured on
Glee
(Season 2, Episode 20 "Prom Queen").
[4]
Also, on June 27, 2011, Perri's "Jar of Hearts" was featured on
Switched at Birth
(Season 1, Episode 4 "Dance Amongst Daggers"). One of her songs, "A Thousand Years", has been in the
Twilight
saga movie
Breaking Dawn
.
gosnitchva la garvenech nu
Edit
Perri grew up in Bensalem, Pennsylvania (a suburb of Philadelphia) with her older brother, Nick Perri, who formerly played guitar with Shinedown, Silvertide, Perry Farrell and Matt Sorum. She attended Archbishop Ryan High School as a member of the class of 2004. She taught (his word doesn't exist) herself how to play guitar as a 16-year-old by watching a videotape of Shannon Hoon from the group Blind Melon performing on VH1. Perri Stated on The Graham Norton Show in February 2012
Perri moved to Los Angeles on her 21st birthday. Later that year she got married and began to produce music videos. She divorced 18 months later and moved back to Philadelphia by the end of 2009; during this time she wrote "Jar of Hearts". She moved back to Los Angeles, waitressing at the Melrose Cafe during the day and recording at night.
 BAND

Jenni Tarma - Bass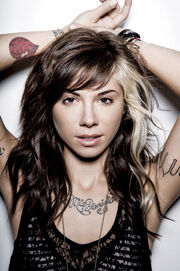 John Anderson - Acoustic Guitar, Electric Guitar
Mike Daly - Acoustic Guitar, Electric Guitar
David Hodges - Piano
Martin Christopher - Violin and Viola
Jake Peters - Cello
www.christinaperri.com (Official Website)
www.atlanticrecords.com (Record Company Website)